With a couple of breakthroughs, initiatives and milestones, this week had a lot in store for the artificial intelligence enthusiasts. After a lot of talk about 5G, Apple finally unveiled its all new(almost) iPhone devices that are capable of handling the 5G bandwidth. The world is not yet ready for 5G but Apple continues the tradition of setting the trend. Be it earpods, 5G or the charger-less shipments, Apple wants their customers to be ready for the next decade. While Apple showed off its breakthrough hardware, two other tech giants flaunted their own breakthroughs. Know more about it in this week's top news brought to you by Analytics India Magazine.
Intel And IIIT-H TO Set Up An AI Research Institute
This week at all.ai concluded its 5-day long virtual summit powered by Intel. At the summit it was announced that Intel India in collaboration with the government of Telangana, International Institute of Information Technology, Hyderabad (IIIT-H) and Public Health Foundation of India (PHFI) is launching INAI, an applied artificial intelligence (AI) research center in Hyderabad. INAI is an initiative to apply AI to population scale problems in the Indian context, with a focus on identifying and solving challenges in the healthcare and smart mobility segments through strong ecosystem collaboration. More details here.
Register for our upcoming Masterclass>>
Microsoft's Image Captioning Breakthrough
On Wednesday, Microsoft announced that have made a breakthrough in AI based image captioning. The AI can not only detect objects in an image but also understand the relation between them and then generate a very human like caption; like the one shown above. The researchers at Microsoft pre-trained a large AI model with a rich dataset of images paired with word tags, with each tag mapped to a specific object in an image. The pre-trained model is then fine-tuned for captioning on the dataset of captioned images. In this stage of training, the model learns how to compose a sentence. When presented with an image containing novel objects, wrote the company, the AI system leverages the visual vocabulary to generate an accurate caption. This new image captioning system is also two times better than the image captioning model that's been used in Microsoft products and services since 2015. Know more here.
Google using AI and machine learning to improve search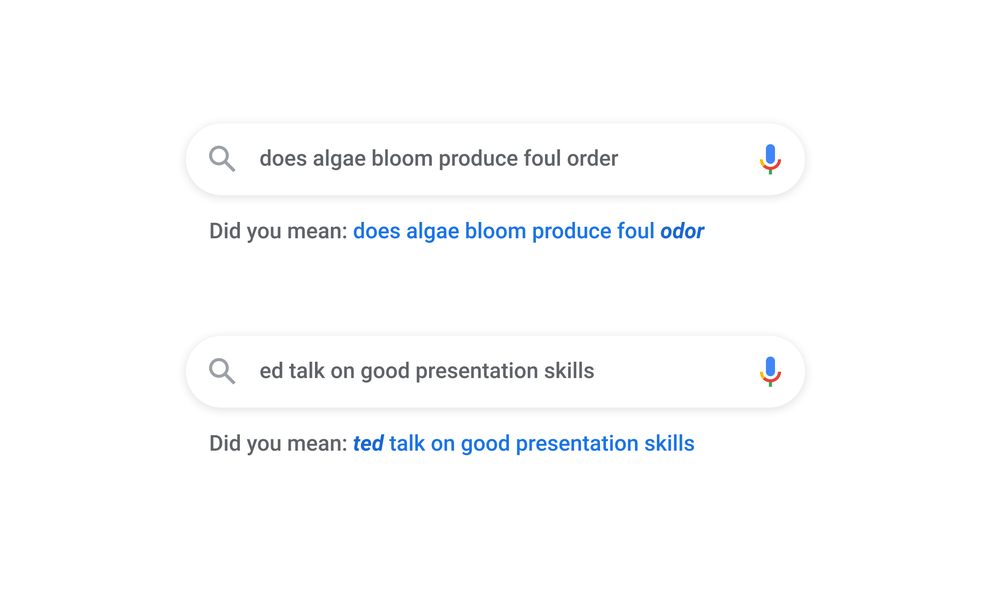 On Thursday, during the live stream of Search On event, Google announced that their famed language model BERT is now used in almost every query in English, helping users get higher quality results for their questions. As shown above Google's new spelling algorithm can understand the context of misspelled words and help find the right results just under 3 milliseconds. There's lot more to unpack from this event. Here are a few:
Highlights:
Looking for a job change? Let us help you.
A breakthrough in ranking that allows Google not just index web pages, but individual passages from the pages.
Neural nets to understand subtopics around an interest
AI-driven approach allows Google to understand the deep semantics of a video and automatically identify key moments. Read more here.
5G Phones With 5nm Chips Are Here
This week, at their most awaited event of the year, Apple flaunted brand new devices—the iPhone 12 family. The new devices are powered by the A14 Bionic, a first of its kind 5 nm chip that does all the computational heavy lifting required for photography and other tasks. The launch concentrated especially on the 5G aspect of the phones. "This is a huge leap for iPhone, bringing the best 5G experience in the market and delivering our most advanced technologies to users who want the absolute most from their iPhone," said Greg Joswiak, Apple's senior vice president of Worldwide Marketing. Though the 5G infrastructure is not ubiquitous yet, looks like Apple is prepping up its customers for what lies ahead. The iPhone 12 series also has a LiDAR scanner for immersive experience. Check the full details here.
AI For Storing Renewable Energy Better
Facebook AI Research (FAIR) and Carnegie Mellon University's (CMU) have collaborated on a project called The Open Catalyst. As part of the project, researchers will use AI to model and discover new catalysts for use in renewable energy storage to help in addressing climate change. FB and CMU have also released the Open Catalyst Dataset for training ML models. The dataset contains 1.2 million molecular relaxations with results from over 250 million DFT calculations. Check the Github page.
NVIDIA Working On Fastest AI Supercomputer
In what appears to be a never ending good news for the chip maker, NVIDIA today announced that the Italian inter-university consortium CINECA will use the company's accelerated computing platform to build the world's fastest AI supercomputer.
The new "Leonardo" system, built with Atos, is expected to deliver 10 exaflops of FP16 AI performance to enable advanced AI and HPC converged application use cases. Featuring nearly 14,000 NVIDIA Ampere architecture-based GPUs and NVIDIA Mellanox HDR 200Gb/s InfiniBand networking, Leonardo will propel Italy as the global leader in AI and high performance computing research and innovation.
Leonardo is procured by EuroHPC, a collaboration between national governments and the European Union to develop a world-class supercomputing ecosystem and exascale supercomputing in Europe, and funded by the European Commission through the Italian Ministry of University and Research. Know more here.
CBSE Sets World Record With Intel
The Central Board of Secondary Education (CBSE) and Intel India has set a new Guinness World Record by delivering a e-lecture to a gathering of 13,000 eighth graders on October 14th, 2020. The virtual class was part of the ongoing "AI For Youth Virtual Symposium" which was organised by Intel and CBSE. Read more here.
---
Join Our Discord Server. Be part of an engaging online community. Join Here.
---
Subscribe to our Newsletter
Get the latest updates and relevant offers by sharing your email.