Bengaluru-based DealShare is one of the disruptive e-commerce models focused on re-inventing e-commerce for the next billion internet users. Since its inception in 2018, its focus has been to procure products from local manufacturers and offer them a platform to digitise their business and compete with leading brands.
It has partnered with more than 100 brands, of which 70 per cent are local and regional brands, serves more than 15 million customers, and caters to about five lakh orders daily. The company is present in 130+ cities and towns across Karnataka, Rajasthan, Gujarat, Maharashtra, West Bengal, Uttar Pradesh, and Delhi-NCR. In the coming months, it plans to expand to 300+ cities and looks to add 5000+ local brands to its portfolio.
Sign up for your weekly dose of what's up in emerging technology.
The DealShare team told AIM that it is planning to expand its data science team, where they are looking to add close to 15-20 members in the next few months and are aggressively hiring data science and ML professionals across job roles.
Started off as a WhatsApp group
In an exclusive interview with AIM, the founder and CEO of DealShare, Vineet Rao, shared the company's journey and how it leverages AI, data science, and analytics to run its business and build data-driven products more.
Rao said that the largest spending for any middle-income family in India goes into groceries. "We started selling groceries on WhatsApp," said Rao, recalling his initial days, pilot testing the business model in Jaipur. The demand surged in little less than two months, and the company hit roadblocks. That is when they decided to start building the DealShare app.
"We learnt a lot about what assortment to sell. We built a complete network of local manufacturers and distributors, where we directly procured from the factory at discounted prices and gave the value benefit to our customers," said Rao.
An ex-Microsoft exec, Rao has always been fascinated with data and data intelligence. At Microsoft, he was part of the data and cloud team, where he worked on SQL servers and other initiatives, and later joined the consumer internet team, where he focused heavily on data and AI. He was also part of the team that built the first version of Cortana. "I believe, in the future, all businesses will transform and evolve based on data intelligence." 
Check out the interview with DealShare team below:
Quenches in data
"We get a very high degree of retention and engagement in our daily active users – a user opens the app about three or four times a day. The monthly active user uses the app 30 times a month," shared Rao. He said that this kind of engagement also enables them to collect phenomenal amounts of data to learn about the users and understand their patterns into what works and what doesn't.
On top of that, DealShare follows a social-centric model, where most of its customer acquisitions have been through social networks, building micro incentives. "Our customers bring all of their friends and family once they start liking us," he added, saying that the customers get incentives (say, get products for free) rather than going to ATL or BTL activities and spending money on all kinds of other ads.
From a data science perspective, this builds a very powerful social graph. "That social graph is much better than any other social network because we both have the social data of the likes and dislikes, alongside the purchase data regarding what people are buying and what they are not buying," said Rao. He said they could combine that to create a powerful, intelligent data platform. "That is the future that I believe we are heading towards," said Rao, saying that he has always been a data person.
Data challenges and complexity
The co-founder and chief product officer at DealShare, Rajat Shikhar, said that they have a humongous amount of data collected from various sources in the last three and a half years.
This includes clickstream data, offline data, geographical or geospatial data, transactional data, etc. "All of this data is eventually going to help us in solving a bunch of problems, both on the customer experience side as well as operational efficiency," said Shikhar, throwing light on some of the use cases such as personalised customer engagement, search recommendations, cataloguing, better forecasting, inventory management, pricing, building trust and safety, etc.
A seasoned e-commerce professional, Shikhar has worked with companies like Jabong, food panda, and others, leading the product development teams. "We are catering to a large mass market in India, a unique problem. Data science and AI can fill in the gaps with several interesting use cases.
Inside DealShare data science team
DealShare currently has about 70-80 product tech folks, and its data science team is part of its product and tech team. "Our data science team is still relatively small, but we want to get to the size of 15-20 members very soon," shared Shikhar, saying that it follows a centralised setup. However, as the team evolves, the company looks to be verticalised to different business groups.
AIM caught up with team DealShare, where we met DealShare's Head of Engineering Anurag Laddha; Product Leader Shrinath Nagarajan; and Senior Director Architect Mohan Kumar Pandian to understand the data science complexities and challenges they face daily at DealShare, alongside understanding the interview process, work culture and more.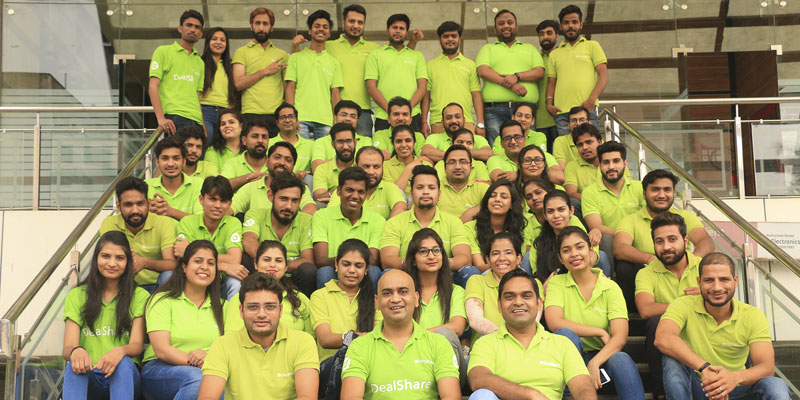 Interview process
Taking through the interview process, Laddha said they start with conversations largely around the past work they have done and try to gauge the person on what motivates them and, most importantly, what they want to do. "What they aspire to do over the next few years," he added. He said the more clarity a person has, the better on that metric.
After this, the next few discussions would largely revolve around maths and pure data science aspects. Check if the candidate can apply the techniques to solve business problems and look for their data orientation, followed by a business orientation. "We look for people who are open to experimenting faster, who have the mechanisms to develop solutions faster. Open to course-correcting quickly," he added.
"The next is the ownership aspects," said Laddha. "We look for people who want to own the problems and solve them," he added. He said if the candidates are not aware of other skills or techniques, that is perfectly fine as long as they can learn things faster and start to move forward.
Dos & Don'ts
Laddha said when a person is given a problem, in the first few interactions, they want them to come up with the initial solution quickly using slightly simpler models and techniques.
He said obviously, when the dataset and better features are available, using complex models makes sense. "So, the orientation of the person is very important. If they are always of the mindset that I will improve the model, I will not look at the data—that's a big turnoff," said Laddha. He said that it is about data first, and then come the aspects of science.
Work culture
Nagarajan said that the company follows a culture of first principles thinking. "The results are achieved when you start taking a fresh lens to the problem. So, it's pretty refreshing to work in, actually," he added.
Why join DealShare?
"You can see a lot of action," avered Nagarajan. He said that at DealShare, the teams are extremely keen on forming a view of their expectations. He said that this involves a lot of experimentation alongside conscious planning. "We are frugal with our investments; we are frugal with our time," said Nagarajan, saying that the team looks at what value addition you can give when spending your time with the organisation.
"All rules are thrown out of the window," he added. He said that candidates have to form a sense of who their customers are, who they are building for, and then start solving. If you are an avid problem solver, then DealShare is definitely where you should be.
What are you waiting for? Apply here.