---
NVIDIA announced Alps, which is touted to be the world's most powerful AI-capable supercomputer.
NVIDIA has kickstarted the latest edition of its much awaited technology conference— GTC 2021. GTC is an annual conference organised that showcases few of the most transformative technologies in AI, graphics, data centre, computing, networking, and more. For instance, at last year's event, CEO Jensen Huang launched a GPU-based AI chip, the A100. From futuristic data centres to robotics toolkits, from movies to the gaming ecosystem, NVIDIA's flagship event has something for all. This year's event got even bigger as the chip maker will be hosting the industry giants like Turing Award winners Geoff Hinton, Yann Lecun, Youshua Bengio, LSTM co-creator Juergen Schmidhuber and more.
Here are a few highlights from the first session of GTC Day 1:
REGISTER FOR OUR UPCOMING ML WORKSHOP
NVIDIA Dials Ups AI And 5G
The company announced the launch of the "AERIAL A100 – AI on 5G" product that combines both GPU and DPU on the same EGX NVIDIA certified PCI Card. It will be available as AERIAL-SDK (software development kit) for the 5G RAN in the second half of 2021. This card will support software-defined, cloud-native workloads. These workloads are configurable via software to include 5G call, NFVi workloads, virtual firewall, deep packing inspection, and the MAC application workloads as well that runs OTT. This is the 5G connected data centre on a card.
According to Ronnie Vasishta Senior VP NVIDIA's Telecom Group, several research reports indicate that the new industry – AI on 5G will drive in excess of $10 trillion of economic value by the year 2035. "We already have evidence for this, such as AI for streaming video over Mobile network, AI as OTT services for 5G, and NVIDIA AI solutions based on GPU & DPU hardware," said Vasishta.
NVIDIA with its products is continuously transforming various sectors including healthcare, retail, robotics, gaming, and any other aspects for a tech-enabled ecosystem. Until now these applications have been somewhat constrained in mobility, latency, reliability and security.
Soma Velayutham, Industry GM for Telecom at NVIDIA revealed more details about the collaboration with Google Cloud to deploy AI on 5G for a diverse range of services on a consistent platform from cloud to edge enabled Google. NVIDIA's solution is cost-effective, powerful and space-efficient. Furthermore, it will encourage the customers to explore and deploy more AI applications. The cloud native platform offers flexible scaling options. In addition, one can also share the compute resources between 5G RAN and AI Application.
"Currently, it requires three sets of disparate servers, likely a whole rack of servers – one set for the 5G RAN, one for the 5G call, and one for the AI Applications. Almost always, the AI application is based on NVIDIA's GPU. NVIDIA's AI on 5G platform enables the customer to have one convergence solution, one converged platform. NVIDIA AI on 5G is an edge data centre that combines high performance 5G with a large number of AI applications," added Velayutham.
Since the data for the AI application and 5G RAN resides on the same system, it offers a high degree of security of the data. The data for AI applications are highly secured on NVIDIA'S platform. Moreover, the launch has enabled new use cases that were not possible to form earlier like URLLC for smart cities and industry 4.0.
"3GPP (3rd Generation Partnership Project) approved 5G network standards. We're rolling out today the setup to solve this problem by specifically focusing on standards for machine to machine communication, or URLLC (Ultra-Reliable Low Latency Communication) and these standards are rolling out now around the world. This is important to bring the true vision of AI Applications of any time and anywhere – you need 5G," said Ronnie Vasishta.
NVIDIA's prominent 5G RAN and Core partners include Ericsson, Fujitsu, Mavenir, Altran, Radisys. Whereas, 5G Security partners include RedHat, VMware and more. Here are other top announcements from the event:

Grace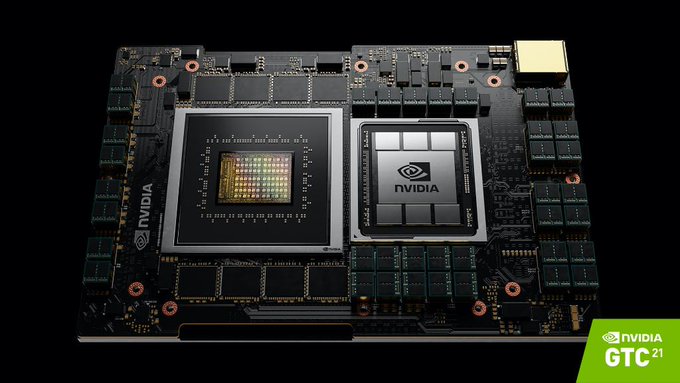 The NVIDIA Grace CPU is designed to address the computing requirements of applications like NLP, recommender systems and AI supercomputing — that analyze enormous datasets.
Omniverse Enterprise
NVIDIA Omniverse Enterprise makes it possible for 3D production teams — which are often large, diverse in skills and geographically dispersed — to work seamlessly together on complex projects. With Omniverse, designers, artists and reviewers can work simultaneously in a virtual world from anywhere, on any device.
Jarvis
NVIDIA claimed that their Jarvis models offer highly accurate automatic speech recognition, as well as superhuman language understanding, real-time translations for multiple languages, and new text-to-speech capabilities to create expressive conversational AI agents.
AI Enterprise
NVIDIA introduced a new class of NVIDIA-Certified System, bringing AI within reach for organizations that run their applications on industry-standard enterprise data center infrastructure.
Alps
In collaboration with the Swiss National Supercomputing Centre (CSCS) and Hewlett Packard Enterprise (HPE), NVIDIA together announced that they are creating what is expected to be the world's most powerful AI-capable supercomputer. Alps will be available from 2023.
Stay tuned for more updates from GTC 2021
---
Join Our Telegram Group. Be part of an engaging online community. Join Here.
---
Subscribe to our Newsletter
Get the latest updates and relevant offers by sharing your email.
kumar Gandharv
Kumar Gandharv, PGD in English Journalism (IIMC, Delhi), is setting out on a journey as a tech Journalist at AIM. A keen observer of National and IR-related news. He loves to hit the gym. Contact: [email protected]