In 2017, Russian President Vladimir Putin said that the country that leads in AI would rule the world. He really meant it. In the recent invasion of Ukraine, the Russian forces reportedly used AI-based drones, some of which were spotted by the Ukrainian forces within their territory.
The other side – Ukraine – was not behind. The controversial company, Clearview AI is said to be supporting Ukrainian forces to 'uncover the Russian assailants and combat misinformation.'
Also Read: What Went Wrong With Clearview AI?
Military superpowers around the world are leveraging the neck-breaking progress in the field of AI to one-up each other. No country can afford to sit out of the AI-based arms race. It is quickly becoming an important component of military strategising and planning.
The US Department of Defense recently announced the appointment of Dr Craig Martell as the Chief Digital and Artificial Intelligence Officer (CDAO). At an earlier conference, the Deputy Secretary of Defense in the US, Kathleen H Hicks, said that this position would be focused on speed – and ensuring the right processes and organisation in place to leverage AI and data. She also added that such a focus would help the department advance a host of different warfighting concepts and capabilities.
AI warfare
"Autonomous weaponry is the third revolution in warfare, following gunpowder and nuclear arms. The evolution from land mines to guided missiles was just a prelude to true AI-enabled autonomy—the full engagement of killing: searching for, deciding to engage, and obliterating another human life, completely without human involvement," Kai-Fu Lee wrote in his book AI 2041: Ten Visions for Our Future.
Lee's prediction is not wrong at all. In 2018, Venezuelan President Nicolas Maduro was speaking at a military event in Caracas. In the middle of the speech, with a look of horror, Maduro looked up to find an explosive drone approaching him. This alleged assassination attempt on the president missed its target but managed to injure seven soldiers.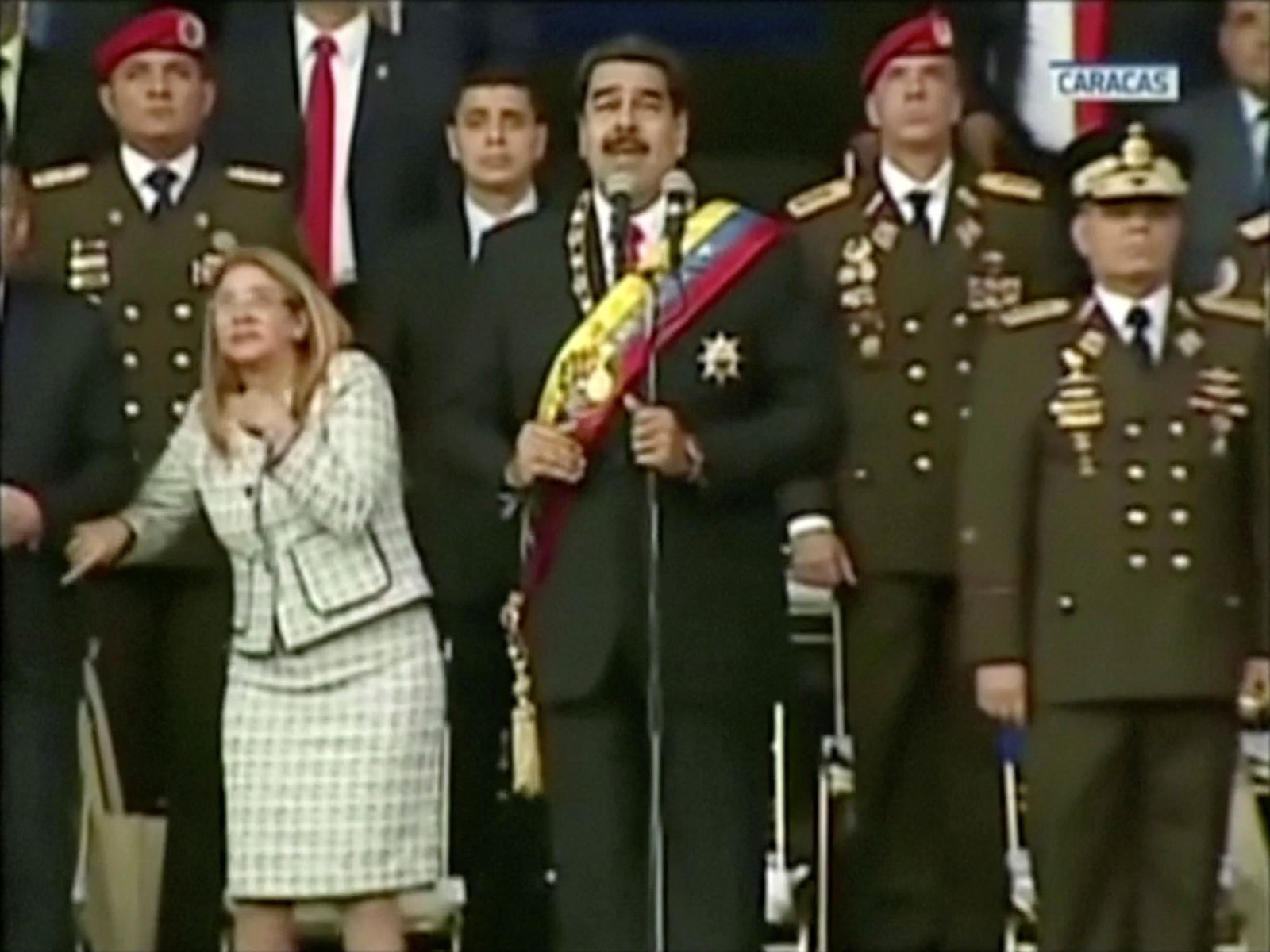 While Maduro escaped, Iranian nuclear scientist Mohsen Fakhrizadeh wasn't so lucky. He was killed by a satellite controlled autonomous gunshot in November 2020.
During the Israel-Palestinian battle, the former adopted a layered approach to missile defence – deterrence, attack on missile launches, early warning systems, and damage minimisation. Of particular interest is Israel's Iron Dome, which is a very short-range AI-based defence system. It acts within a set of pre-programmed parameters to intercept missiles, rockets or mortars aimed at high-value targets at 2.5 to 43 miles range. It was developed by Rafael Advanced Defense Systems and Israel Aerospace and first tested in 2008.
The first usage of AI in a conflict could probably be traced back to 2020 during the 44-day war that ensued between Armenia and Azerbaijan over the disputed Nagorno-Karabakh region. From older Soviet-era Scud and Tochka missiles to newer and advanced systems like Iskander and Israel-made LORA (LOng Range Attack) missiles were used. Drones of Russia, Turkish, and Israel make performed missions to support artillery use and strike missions. Unmanned aerial vehicles (UAV) were able to destroy heavy ground units, including T-72 tanks and S-300 air defenses.
Need for an AI chief
During the Russian-Ukraine conflict, a third party quietly seemed to have benefitted. US' Pentagon used AI and machine learning tools to analyse vast amounts of data to generate useful battlefield intelligence and learn more about Russian tactics. In an interview with Defense One, the Director of Defense Research and Engineering for Modernization Maynard Holiday, said, "What you're not seeing is our exquisite intelligence capabilities that are able to oversee the battlefield, including gathering and archiving signals intelligence." He added, "We'll definitely be doing an after-action analysis on everything we've seen with respect to Russian tactics." All of this information will now be used for creating a database that can be trained for future use.
The US is not discreet about its ambitions to use AI to bolster its military capabilities. Earlier this year, the Deputy Secretary of Defense, Hicks, issued a memorandum highlighting the importance of the US Defense Department as an AI-enabled enterprise that can operate at the speed and scale required to preserve its 'military advantage'.
The memorandum also mentioned the creation of a new post – the Chief Data and Artificial Intelligence Officer (CDAO) – to oversee data and AI initiatives under one official at the highest level of the Pentagon. Since February, John Sherman, the Chief Information Officer at the Department of Defense, has been serving as the interim CDAO.
Newly appointed CDAO, Craig Martell is tasked with leveraging AI and analytics to advance the military prowess of the US and, in turn, one-up adversaries like China. The US Defense Department plans to spend USD 874 million on AI technologies in 2022.
Newly appointed CDAO, Craig Martell is tasked with leveraging AI and analytics to advance the military prowess of the US and, in turn, one-up adversaries like China.
CDAO for India?
In June 2021, the Jammu Air Station was attacked by two explosive-carrying drones. The two explosions happened within a gap of five minutes – one blast damaged a single-storey building while the second one exploded on open ground. The initial probe indicated the involvement of Pakistan-based agencies and terror outfits like Lashkar-e-Taiba.
While this was the first instance of drones being used for direct attack, in the past, the Border Security Forces (BSF) has reported several drone sightings. As per a few reports, BSF witnesses 10-15 sightings a day – while most of these drones are for surveillance purposes, a few were also used for dropping weapons and explosives in the area close to Pakistan's borders.
Keeping up with the time, the Pakistan defence forces are also developing an AI-based strategy. In 2020, the Pakistan Air Force established the Centre for Artificial Intelligence and Computing (CENTAIC), which would lead R&D in this space.
Pakistan finds an ally in China. Military and strategic partnerships form an important part of their friendship. Recently, PLA Senior Colonel Wu Qian, spokesperson of the Ministry of Defence, said that military-to-military relations between the two countries are the 'mainstay of the China-Pakistan friendship'. There have been recent reports about China exporting missiles and even autonomous machinery to Pakistan. For example, as per reports, a Chinese military drone manufacturer Ziyan sold its autonomous weaponised Blowfish A2 drone to Pakistan.
Speaking of China, its People's Liberation Army is probably the most technologically advanced military in the world. The Center for Security and Emerging Technology (CSET) at Georgetown University released a report titled "Harnessed Lightning: How the Chinese Military is Adopting Artificial Intelligence". As per the report, Chinese leaders are actively pushing for stronger integration of AI in the military to transform PLA into a world-class and globally competitive military force. The research group's analysis showed that PLA is developing autonomous vehicles and using AI and machine learning to improve intelligence analysis, target recognition and information warfare.
In such a case, where India faces a two-front challenge, the country's military can hardly afford even a minor slip. To its credit, the top military leadership in India have regularly spoken about stronger AI integration in the forces. A few concrete steps have also been taken in this regard.
India constituted a multi-stakeholder task force on the Strategic Implementation of AI for National Security and Defence in 2018. In June 2018, under N Chandrasekharan (chairman, Tata Sons), the task force submitted its report, stressing the need for 'policy and institutional interventions required to regulate and encourage robust AI-based technologies for the defence sector in the country'.
Less than a year later, the ministry established a high-level Defence AI Council (DAIC) with the Defence Minister as the chairman. DAIC is now tasked with providing strategic direction towards AI adoption in defence. DAIC guides the public-private partnerships and reviews the recommendations on technology acquisition. It is also responsible for reviewing the ethics, safety and privacy aspects of AI usage in defence.
The council meets twice a year to 'provide strategic direction' for AI-driven transformation.
The task force recommended setting up the Defence AI Project Agency (DAIPA). As a result, the Ministry of Defence, through an Executive Order dated February 8, 2019, created the Defence AI Council (DAIC) under the chairmanship of Raksha Mantri and the Defence AI Project Agency (DAIPA) with Secretary (DP) as ex-officio head for providing necessary guidance to enable and affect the development of the operating framework, policy-level changes and structural support for AI adoption.
Last December, the Indian Army set up a quantum computing laboratory and an AI centre at the military engineering institute in Mhow, Madhya Pradesh.
While these steps are commendable, a more aggressive approach might be a need. The Indian military can have a dedicated arm for AI and other emerging technology-based war and defence preparedness and strategising. Such a body could be under the direct administration of the Ministry of Defence, headed by a technologically proficient and experienced chief.
The US Department of Defense has roped in an industry expert as the CDAO. The move makes sense since the private sector plays a critical role in pushing the frontier of AI innovation (India ranks third among G20 countries in the number of AI-based startups). However, India has been historically circumspect in bringing private players to handle key positions in the defence forces. Hence, appointing an industry expert as a CDAO-equivalent would mean a lot of bureaucratic overhauls and attitudinal shifts.
Besides, AI adoption is capital-intensive. The government needs to create departments to train defence forces in emerging technologies like AI and pour money into the R&D to build AI capabilities. Autonomous weapons are the future of modern warfare. To that end, India should start by establishing an AI team and an AI chief to ensure we don't fall behind in the arms race.