The outbreak of the new coronavirus, COVID-19, that began in Wuhan, China, has turned into a global pandemic. Pandemics are not just passing tragedies of sickness and death. The omnipresence of such mass-scale threats, and the uncertainty and fear that accompany them, lead to new behaviors and beliefs. People become both more suspicious and less willing to engage with anything that seems foreign or strange.
For better or worse the robots and AI are going to replace many humans in their jobs and the coronavirus outbreak is speeding up the process.
Before COVID-19, most people had some degree of apprehension about robots and artificial intelligence. Those worries appear to have been set aside since the onset of the pandemic as AI-infused technologies have been employed to mitigate the spread of the virus. We've seen an acceleration of the use of robotics to do the jobs of humans who have been ordered to stay at home or who have been redeployed within the workplace.
Sign up for your weekly dose of what's up in emerging technology.
Robots getting in all walks of life
Robotic Cocktail/ Mixologist
Makr Shakr teams up with high-end Nordic beverage company GlacierFire to open the first bar exploring how robotics and technology can safely bring people together in the post-COVID-19 era. The ICE+FRIES bar has inaugurated in the capital city of Iceland and features a series of advanced technological elements, including the latest model of Makr Shakr's world's first automated cocktail maker, Toni.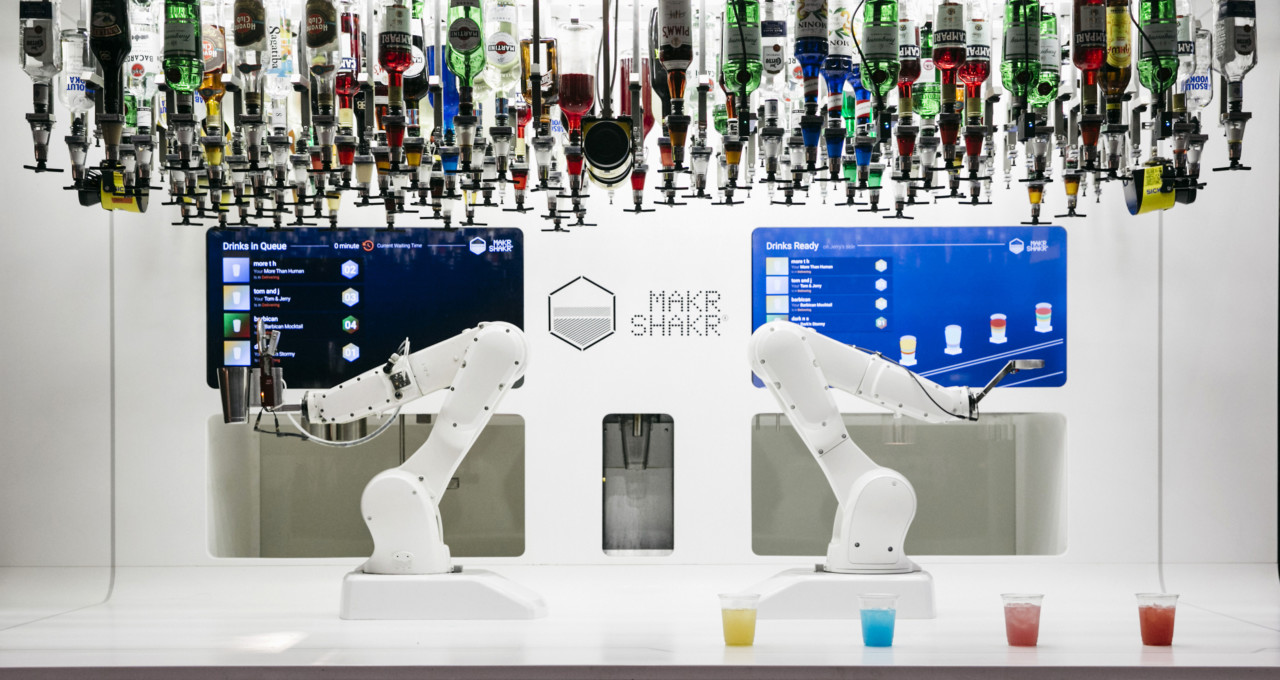 Robotic Pharmacy
From prescription to tendering the medicine, robotic pharmacy is fully self-serve. With digitization of the medical system, this explodes the possibility of using data to improve both the doctor's diagnosis and future prescriptions.
Healthcare
Robots are acting as an interface between a doctor and a patient wherein they can carry out diagnostic and treatment processes, reducing the human contact and risk of transmission of infection.
Replacing human contact with robots is often seen as a danger of robotization. But in this case, there are also obvious benefits. After all, a robot cannot be infected by patients, and if it is well cleaned, it cannot infect any human.
Recycling industry 
The recycling industry was already struggling before the pandemic. Now, an increasing number of cities are suspending recycling services, partly out of fear that workers might contract the coronavirus from one another while sorting through used water bottles, food containers and boxes.
Since the coronavirus took hold in the United States last month, AMP Robotics has seen a "significant" increase in orders for its robots that use artificial intelligence to sift through recycled material, weeding out the trash.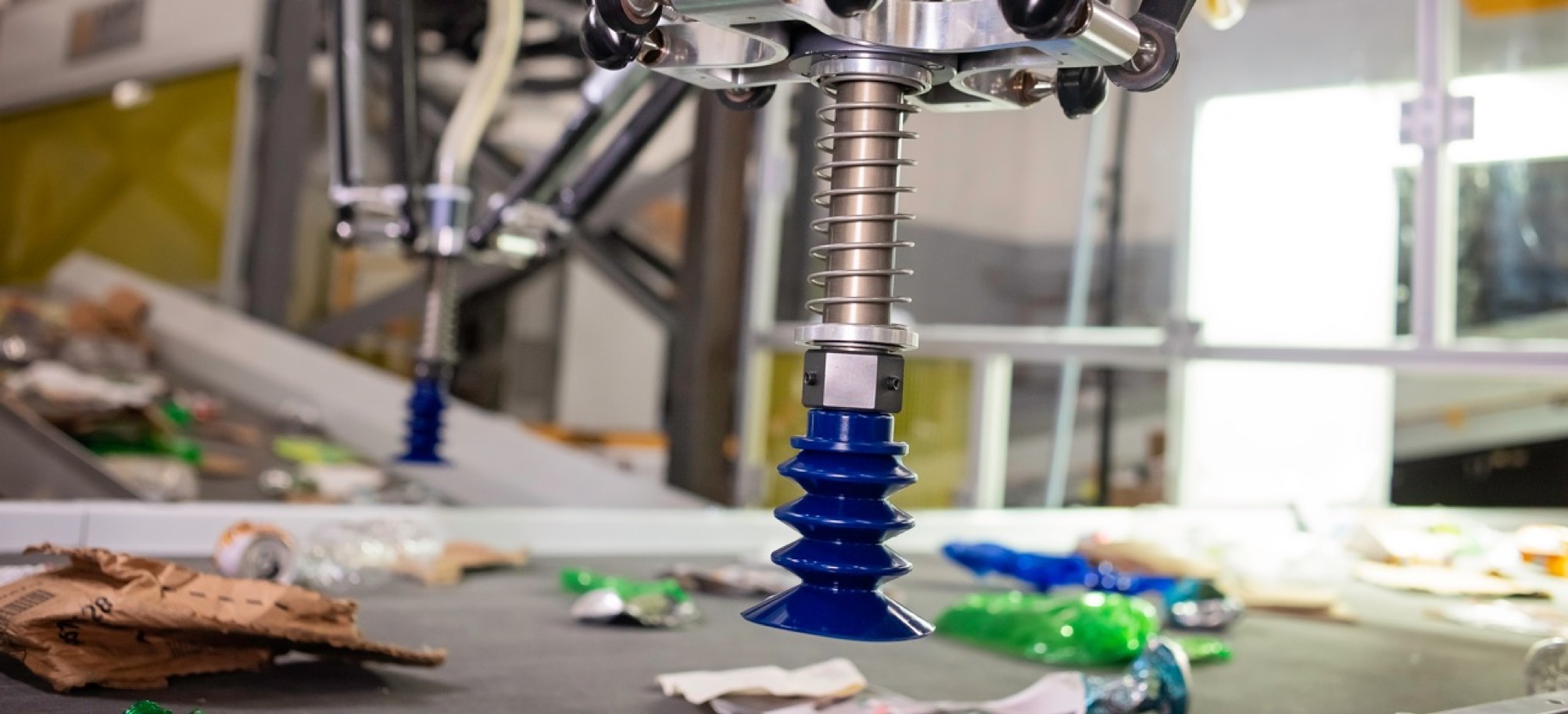 Retail Industry
The retail industry is leaning more on automation to free up employees to deal with the crush of demand during the pandemic.
Brain Corp, a San Diego company that makes software used in automated floor cleaners, said retailers were using the cleaners 13 percent more than they were just two months ago. The "autonomous floor care robots" are doing about 8,000 hours of daily work "that otherwise would have been done by an essential worker," the company said.
At supermarkets like Giant Eagle, robots are freeing up employees who previously spent time taking inventory to focus on disinfecting and sanitizing surfaces and processing deliveries to keep shelves stocked.
While fully automated stores, such as Amazon Go, might have seemed like a technological curiosity a few months ago, they are likely to become a more viable option for retailers.
Accelerated adoption of AI/ML and automation is going to be the new normal
Healthcare
Understanding how COVID-19 spreads
At the beginning of this pandemic, BlueDot, a Canadian start-up used AI to detect disease outbreaks, was one of the first to raise the alarm about a worrisome outbreak of a respiratory illness in Wuhan, China. BlueDot uses AI to detect disease outbreaks. Using their machine learning algorithms, BlueDot sifts through news reports in 65 languages, along with airline data and animal disease networks to detect outbreaks and anticipate the dispersion of disease.
Early detection of disease
In the field of medical imaging, researchers are using machine learning to help recognize patterns in images, enhancing the ability of radiologists to indicate the probability of disease and diagnose it earlier.
UC San Diego Health has engineered a new method to diagnose pneumonia, a condition associated with severe COVID-19. This early detection helps doctors quickly triage patients to the appropriate level of care even before a COVID-19 diagnosis is confirmed.
Speeding up research and treatment
AI can help with vaccine development by examining the virus' components. This can aid specialists gain a basic understanding and develop treatments that can be subject to pre-clinical trials
Enabling organizations to scale and adjust
Healthcare and government institutions are using machine learning-enabled chatbots for the contactless screening of COVID-19 symptoms and to answer questions from the public. One example is Clevy.io, a French start-up, which has launched a chatbot to make it easier for people to find official government communications about COVID-19.
Banking
The economic fallout of the coronavirus pandemic has presented banks, credit unions, and other lenders with a number of challenges. As lenders look ahead to recovery, AI, machine learning, and data analytics are key considerations for a post-COVID-19 business strategy.
Predicting future losses
COVID-19 has brought about a stressed financial environment that, sooner or later, will affect credit quality and credit losses. AI uses various criteria points to help better predict and prepare for these losses by highlighting patterns and trends—right down to the loan type, region, branch location, etc.
Agile risk management
While not a replacement for risk management procedures, AI is complementing the internal controls and early warning systems already in place around loan approvals, disbursement, and monitoring. It can help uncover anomalies and potential fraud incidents that may have been missed otherwise.
Liquidity management
The coronavirus pandemic has increased the liquidity pressures banks and credit unions face when managing loan portfolios. Going forward, lenders may need to have greater amounts of liquidity at particular points in the business cycle, to safeguard against similar situations.
AI measures and analyzes behavioral patterns within a lender's loan portfolio to improve efficiency. It can help management monitor where and how funds are moving and what level of liquidity is needed to stay within acceptable risk boundaries.
Content moderation
Facebook, YouTube and Twitter are relying more heavily on automated systems to flag content that violate their rules, as tech workers were sent home to slow the spread of the coronavirus.
Tech companies have been saying for years that they want computers to take on more of the work of keeping misinformation, violence and other objectionable content off their platforms. Now the coronavirus outbreak is accelerating their use of algorithms rather than human reviewers.
Automation need not be at the scale of a Store. This innovation is a clear example of automating one process, Example: Check-out scanning. One of the key issues in bar code based scanning is many bar codes are not readable and there is plenty of time wasted and customers have to wait. This 3D scanning machine with computer vision can recognize the products irrespective of where the bar code is and even if the bar code is missing (using the image and text on the packaging).
---
Conclusion
Events like pandemics have the potential to change all the timelines and experts say it's really up to humans to decide how they want to integrate this technology in the world.
After a vaccine for COVID-19 is developed (we hope) and the pandemic retreats, it's hard to imagine life returning to how it was at the start of 2020. Our experiences in the coming months will make it quite easy to normalize automation as a part of our daily lives. Companies that have adopted robots during the crisis might think that a significant percentage of their human employees are not needed anymore.
Consumers who will have spent more time than ever interacting with robots might become accustomed to that type of interaction. When you get used to having food delivered by a robot, you eventually might not even notice the disappearance of a job that was once held by a human. In fact, some people might want to maintain social distancing even when it is not strictly needed anymore.
We, as a society, have so far not questioned what types of functions these robots will replace — because during this pandemic, the technology is serving an important role. If these machines help preserve our health and well-being, then our trust in them will increase.